2016 Best annual report winners
For all companies, judges are looking for evidence of an innovative and effective report that plays an integral part in the communication of the strategy and investment case of a company. It should serve as an effective communications tool and provide insight into the company's main objectives and strategies, the principal risks it faces and how they might affect future prospects. For UK listed companies, there will be a focus on the objectives set out in the Financial Reporting Council's (FRC) Guidance on the Strategic Report issued in June 2014.
Award Categories
Best annual report - International
Best annual report - Small Cap & AIM
Best annual report - FTSE250
Best annual report - FTSE100
In a high quality category of international entries, the judges said that PhosAgro produced a concise and well laid-out annual report. The entry featured a strong design with a visually engaging approach used throughout the report. Of particular note by the judges was the way the business model was presented to differentiate the business.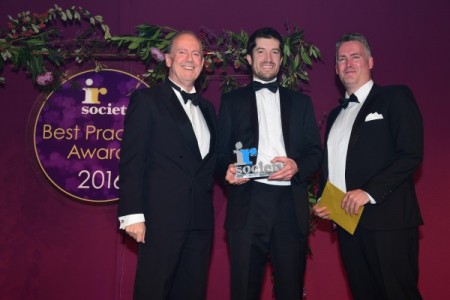 Gyles Brandreth, Sam Vanderlip from EM Advisors (on behalf of PhosAgro) and Damon Rowan from BNY Mellon
Highly Commended:
Uralkali
Last year's winner, Uralkali has also been highly commended in this category, as it continues to deliver best practice reporting. The judges highlighted the company produced a clear, balanced and understandable annual report with a well presented business model.
Shortlisted Companies:
Aeroflot
BASF
Gazprom Neft
Volvo Car Group

The judges applauded the time and effort being invested by smaller cap companies to produce best practice reports. Congratulations to McBride who win this award for a clear report with a simple business strategy that is well integrated throughout the report. The judges also highlighted the investment case, governance principles and risk assessment as award winning features of the report. In particular the way the company tackled the reduced dividend issue stood out as best practice communications.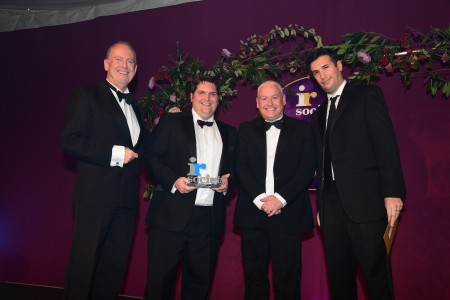 Gyles Brandreth, David Rattigan and Huan Quayle from McBride and Sebastien Dutrieu from IR Magazine
Highly Commended:
McColls Retail Group
A new entrant to this category, McColls Retail Group is highly commended for a visually engaging and well laid out annual report. In particular the judges would like to congratulate the company for the positioning of the business in the context of a competitive marketplace.
Shortlisted Companies:
Central Asia Metals
IG Design Group
Inland Homes
Premier Foods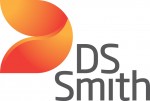 The judges noted the high standard yet again in this category, with much debate around all shortlisted companies. DS Smith wins this award for a well explained business model and a clear and easy to understand reporting framework. The judges liked the innovative use of graphics that included a risk heat map and commented positively on the way in which sustainability issues were addressed.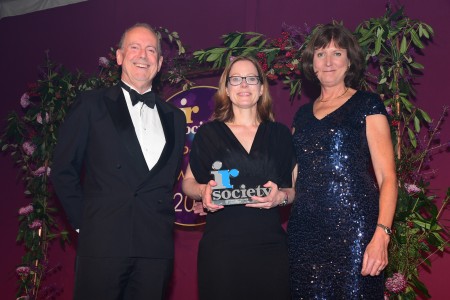 Gyles Brandreth, Rachel Stevens from DS Smith and Claire Forrest from Emperor Design
Highly Commended:
Workspace Group
The judges would like to highly commend Workspace Group for their consistency between printed and online versions of the annual report. Judges would also like to highlight the company's outstanding efforts in addressing the viability statement.
Shortlisted Companies:
Croda
Derwent London
Halfords
Mitie Group

ARM Holdings delivered a most innovative and well integrated annual report. Judges were unanimous in their praise for what was an award winning presentation of a complex business model, aided by a well-designed and easy to read annual report that displays good linkages of content throughout.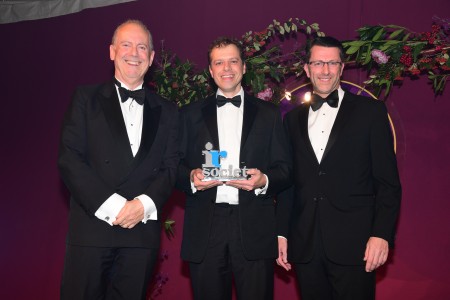 Gyles Brandreth, Andy Rivett-Carnac from Brunswick Group (on behalf of ARM Holdings) and Rob Hemming from Equiniti
Highly Commended:
Taylor Wimpey
Taylor Wimpey is highly commended for presenting a well explained business model, which included KPIs and case studies. The company can be congratulated for concise and engaging presentation.
Shortlisted companies:
British Land
Marks and Spencer
Pearson
Sage