2017 Best annual report winners
In this award the judges were looking for evidence of an innovative and effective report that plays an integral part in the communication of the strategy and investment case. An annual report should provide insight into the company's main objectives and strategies, the principal risks it faces and how they might affect future prospects.
Award Categories
In a high quality category of international entries, the judges said that Adecco produced a concise and easy to understand report. The company presented a good, clear investment case with an engaging design that draws the reader in.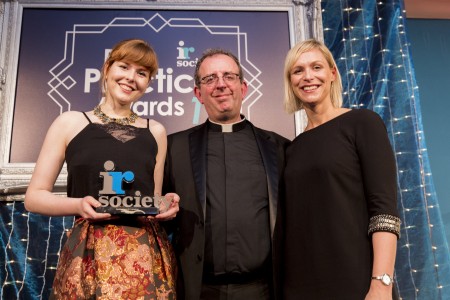 Georgina Collie from Black Sun (on behalf of Adecco Group), Rev. Richard Coles and Julie Wilford from Design Portfolio
Highly Commended:
BASF
Rezidor Hotel Group
Shortlisted Companies:
BASF
MegaFon
OMV Group
Rezidor Hotel Group
Swiss Re
TransContainer
Congratulations to AO World for an excellent example of a small cap delivering best practice. The judges applauded the clear and innovative design of the report, as well as a brilliant use of case studies. Judges noted how the business model engaged the reader. A personal and believable report overall, well done AO!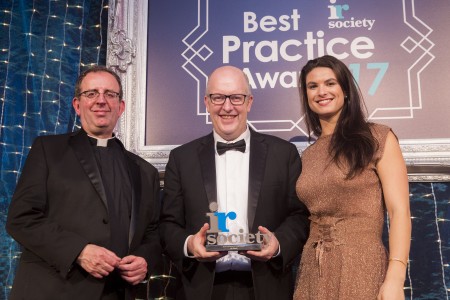 Rev. Richard Coles, Richard Orr from Gather (on behalf of AO World) and Sophie-Marie Steenkamp from Invicomm
Shortlisted Companies:
Be Heard Group
EI Group
Inland Homes
Majestic Wine
Nichols
Volex
Congratulations to Howdens Joinery Group who presented a very clearly laid out strategy and KPIs, The innovative and creative approach taken by the company with this report impressed the judges. They felt engaged from start to finish! Well done!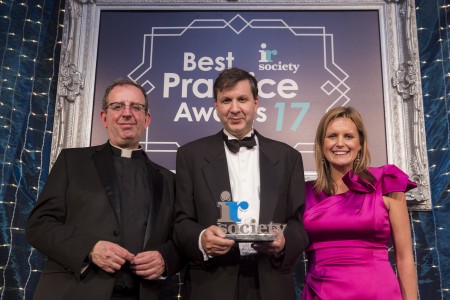 Rev. Richard Coles, Paul Sharma from Howdens Joinery Group and Jenni Fulton from Emperor Design
Highly Commended:
Derwent London
In a hotly contested category, the judges would like to highly commend Derwent London for a strong, well laid out report that delivered clear KPIs and business model, as well as an excellent effort in addressing the viability statement.
Shortlisted Companies:
Halfords Group
Just Eat
Northgate
Ocado Group
Workspace Group
Congratulations to Standard Chartered who took a complex business and gave it clarity and personality throughout the annual report. The judges were unanimous in their praise for what is an award-winning presentation of a complex business model. In particular the company was praised for its risk reporting and human capital metrics.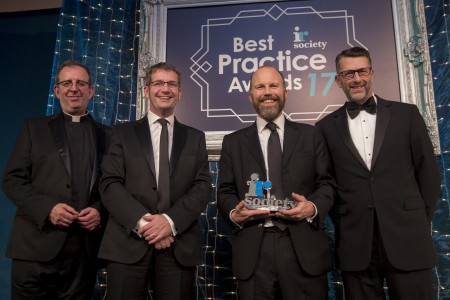 Rev. Richard Coles, Kevin Burns and Nick Rose from FleishmanHillard Fishburn (on behalf of Standard Chartered) and Rob Hemming from Equiniti
Highly Commended:
Taylor Wimpey
The judges would like to highly commend Taylor Wimpey, who yet again have shown a clear and well laid out approach.
Shortlisted companies:
BT
Marks and Spencer
Morrisons
Next
Sage Group