Reverend Richard Coles to host 2017 Best Practice Awards
We are delighted to announce that this year's annual Best Practice Awards host will be writer, broadcaster and Church of England priest, Reverend Richard Coles!
The promotion of best practice in IR is one of the cornerstones of the IR Society's existence and the annual Best Practice Awards, now in their 17th year, play a crucial part in this. Our annual awards dinner on Tuesday 21 November will recognise and reward those companies and individuals demonstrating excellence in investor relations. The event is also a fantastic opportunity to mix with colleagues and peers to celebrate the end of another busy year, and an important part of the event is the choice of host for the evening.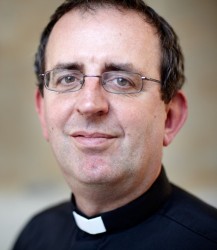 The Reverend Richard Coles is a priest of the Church of England and Vicar of Finedon in Northamptonshire, where two of his ancestors were vicars in the 17th century (the latter sequestered for malignancy). He has a parallel career in broadcasting and currently co-presents Saturday Live on BBC Radio 4. He appears regularly on television as a panellist on QI and Have I Got News For You. He was robbed of a place in the finals of Celebrity Masterchef 2016 by a shoddy Queen of puddings. Richard also appears in the Pause For Thought slot on The Chris Evans Breakfast Show on BBC 2 and in 2017 he co-hosted The Big Painting Challenge for the BBC.
Richard read Theology at King's College London, and after ordination worked as a curate in Lincolnshire and subsequently at St Paul's, Knightsbridge, in London. He is known for having been the multi-instrumentalist who partnered Jimmy Somerville in the 1980s band The Communards, which achieved three Top Ten hits, including the Number 1 record and best-selling single of 1986, a club/dance version of "Don't Leave Me This Way".
He is the author of Lives of the Improbable Saints and Legends of the Improbable Saints, accounts of some of the more vivid and surprising holy men and women of Christian history. Weidenfeld & Nicolson published the first volume of his autobiography, Fathomless Riches: Or How I Went From Pop to Pulpit, to wide acclaim in October 2014 and the paperback was published in September 2015. Richard's second book, Bringing in the Sheaves: Wheat and Chaff from my years as a Priest, was published in 2016. His academic thesis, on the Greek text of the Epistle to the Ephesians, rests unread in Leeds University library.
He is a board member of the local housing association, Wellingborough Homes, and has a particular interest in housing matters.
For more information about the IR Society Best Practice Awards and to book your table online click here
Published 7 September, 2017