Use of online annual reports - nexxar
Online Annual Reports have become firmly established in the reporting practice of listed companies. They are no longer labelled as a ''fringe'' phenomenon or "new media". Last year, 43% of Europe's largest 800 companies published an online report. Even more notable than the increased popularity is the warm reception it receives from various stakeholders: An average company in our sample reached more than 35,000 visits within the first 365 days after publication of the Online Annual Report. All signs are pointing towards a further increase in the usage of online reports. But where exactly does the journey go? We have formulated four assumptions... about the future of digital reports
Online Annual Reports have become firmly established in the reporting practice of listed companies. They are no longer labelled as a ''fringe'' phenomenon or "new media". Last year, 43% of Europe's largest 800 companies published an online report.

Even more notable than the increased popularity is the warm reception it receives from various stakeholders: An average company in our sample reached more than 35,000 visits within the first 365 days after publication of the Online Annual Report (see page 5).

All signs are pointing towards a further increase in the usage of online reports. But where exactly does the journey go? We have formulated four assumptions about the future of digital reports...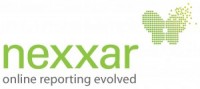 About nexxar

nexxar is dedicated to the conception and implementation of online reports. Since the company's founding in 2003, we have published more than 500 HTML reports – primarily online annual reports. As one of the internationally
leading agencies for digital corporate reporting, we serve clients from all across Europe and beyond. With a high degree of precision and sophisticated processes, we are specialised in the needs and requirements of corporations.

Multi-channel publishing with Online First
Corporate reports are mostly read on screen these days. With our multi-channel publishing approach "Online First", companies put the online report in the foreground of their publication strategy. Report concept, storyline, graphics and contents are thereby primarily designed and optimised for the display on screens. With the multi-channel principle, other report formats can be generated and synchronised from the online report at any time (e.g. a PDF or print version). In doing so, format-specific features (justification, multiple columns) and print style guides can be easily taken into consideration. Behind Online First, there is a full-fledged content management system that enables companies to work collaboratively on report projects.

Find out more about our Online First approach
Published 21 November, 2016
Download Use of online annual reports - nexxar
Click here to download the white paper