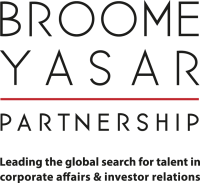 Head of Investor Relations – CAC 50
Pay: Competitive
REPORTS TO: Head of Strategy, Investor Relations and Communications.
LOCATION: Benelux
Our client
Our client is the global market leader in its sector and has an enviable track record of sustained growth and market penetration. This is one of the most exciting senior level mandates Broome Yasar has worked on out of more than 400 appointments. It is a confidential search and we will be happy to run through with you the opportunity, as well as the potential of the role.
Job role
Key roles and responsibilities will be:
Leading dialogue with analysts and investors to ensure a strong understanding of our client's' equity story and value proposition, and delivering key messages;
Assisting, with senior management, in the development of key messages, Q&As, publications, presentations and media used in the IR program
Leading and coordinating the Group's response to ESG topics including producing the ESG Report and engaging with ESG Ratings Agencies;
Leading the production of the corporate Annual Report, coordinating with Group Accounting & Consolidation, Legal, as well as other contributors;
Overseeing the monitoring of equity analysts research and earnings estimates, share price movements, and periodic ownership analysis;
Leading investor targeting and the development and maintenance of relationships with the investor community;
Understanding and explaining share price movements and ownership changes to senior management;
Overseeing the organisation of IR conferences and road shows, investor tours, meetings and conference calls;
Maintaining accurate and up-to-date information of the IR section of the corporate website;
Maintaining and proactively developing other key IR management tools such as the IR contact database, consensus analysis, peer group analysis;
Participating in crisis communication preparedness initiatives, including data collection and analysis, drafting, editing and support;
Developing and maintaining in the IR Team, a sustainable team of talented individuals and future leaders for the business overall.
In a fast-moving and rapidly growing organisation, there may well be additional ad hoc project work which is likely to be varied and interesting. A successful candidate will be a self-starter who can work independently to deliver clear end-products. He/she will need to ensure full project and stakeholder management (including top management).
QUALIFICATIONS AND EXPERIENCE REQUIRED:
Experience: 8 to 10 years in Investor Relations at European listed company, or equivalent time in Investment Banking or Equity Research at Top Tier bank
Education: Excellent student track record with a Masters degree from top University. A Life Sciences or Scientific degree would be an advantage (e.g. Biology, Biochemistry, Biotechnology), or degree in business administration, Finance or Engineering. CFA or MBA would be considered a plus.
Languages: Native English/very standard, oral and written, is a must.
Personal skills
Strong track record in IR discipline, demonstrating growth in the function and grounded experience;
Proven ability to advocate with key stakeholders such as investors and analysts, with and without the input of senior management;
Strong interpersonal skills (e.g. oral and written communication, presentation skills) as this role will interface with senior management and scientific experts;
Strong strategic/problem solving abilities to rapidly assess situations and identify what's important;
Proven ability to independently set-up, manage and drive clearly defined projects.
Technical knowledge IT: MS Office products.
Date posted: 12 August, 2021
Further information
If you believe your experience and background matches this brief then please send an introdutory email with your CV attached to contact@broomeyasar.com quoting reference number ALGD-427485. If you do not hear back from the research team then please assume your background does not match our client's needs and expectations. Nevertheless, as Broome Yasar Partnership works on a considerable number of mandates throughout the year we may indeed contact you for another role.
Broome Yasar Partnership is regarded as the leading global investor relations and financial public relations executive recruiter. We also help to place candidates into senior corporate communications, internal communications and public relations roles. All our Partners have had direct and considerable experience of the coal face of investor relations and corporate communications, through their work prior to executive recruitment. For further information please call +44 (0) 3666 5130 or look at www.broomeyasar.com