2019 Best annual report winners
In this award the judges were looking for evidence of an innovative and effective report that plays an integral part in the communication of the strategy and investment case. An annual report should provide insight into the company's main objectives and strategies, the principal risks it faces and how they might affect future prospects.
Award Categories

Our congratulations go to Polymetal. You are commended for a clear, open and honest annual report with a good description of the business model and strategy. Judges applauded you for tackling the business issues head on in your reporting. Well designed, well written and easy to follow. Bravo Polymetal!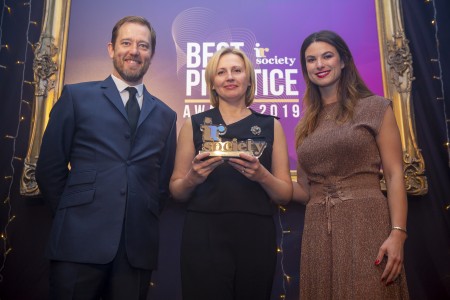 (From left to right) Alun Cochrane, Tatiana Ridley from Instinctif (on behalf of Polymetal) and Sophie-Marie Steenkamp from Invicomm.
Shortlisted Companies:
BASF (BASF)
Coca-Cola European Partners (Salter Baxter)
EN+ (Zebra Communications)
Polymetal (Instinctif)
Swiss Re (MerchantCantos)
The Adecco Group (Black Sun)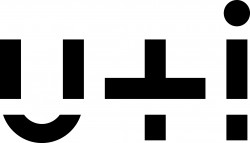 Congratulations to Congratulations U + I. Well done for an innovative report, demonstrating a strong sense of passion and clearly showing a purpose led organisation. Judges commented on how you presented a simple business and communicated what makes you different very well.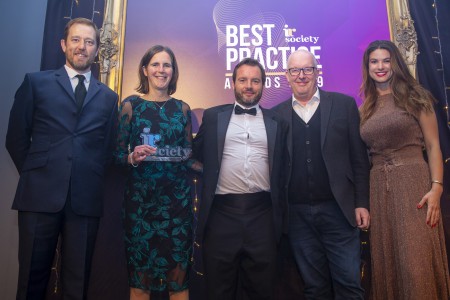 (From left to right) Alun Cochrane, Nicola Krafft and Chris Barton from U+I Group, Richard Orr from Gather and Sophie-Marie Steenkamp from Invicomm.
Shortlisted Companies:
Naked Wines (formerly Majestic Wine) (Friend Studio)
Petra Diamonds (Design Portfolio)
RDI REIT (Lyonsbennett)
The AA (Friend Studio)
U+I Group (Gather)
Vectura (Design Portfolio)

Congratulations to Derwent London who produced a well-designed and clear annual report which also demonstrated a cohesive management team and joined-up strategy. The judges noted a strong focus on value creation for shareholders throughout the report. Well done Derwent!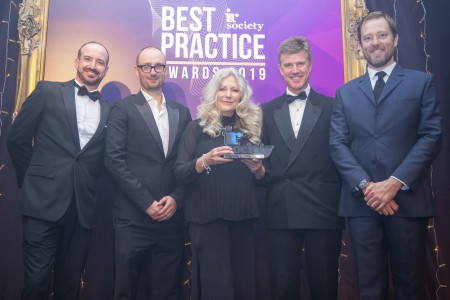 (From left to right) Jim Robinson from Jones and Palmer, Darren Walker, Deborah Ford and Bill Krarup from Merchant Cantos (on behalf of Derwent London) and Alun Cochrane.
Highly Commended: Britvic
In a hotly contested category, judges would like to highly commend Britvic for a strong report with excellent tone of voice.
Shortlisted Companies:
Britvic (Luminous)
Derwent London (MerchantCantos)
G4S (Black Sun)
Hammerson (Black Sun)
St. Modwen Properties (Gather)
Weir Group (Luminous)

Congratulations to Anglo American, the outstanding entry in this category. A fair and balanced annual report that is upfront about its values and demonstrates a strong sense of culture. Rich in content, the judges remarked that they had the 'best KPIs across the FTSE 100.' Well done Anglo American!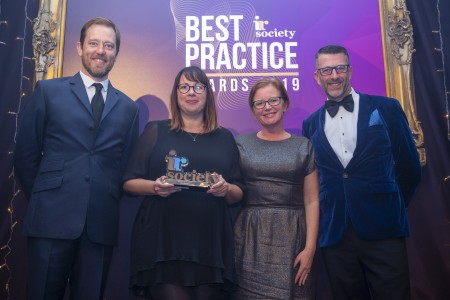 (From left to right) Alun Cochrane, Anna Lankester and Leisha Wemyss from Anglo American, and Rob Hemming from Equiniti.
Shortlisted companies:
Anglo American (Salter Baxter)
AVEVA (Emperor)
Coca-Cola HBC (Black Sun)
Johnson Matthey (Magee)
Lloyds Banking Group (Friend Studio)
Taylor Wimpey (Black Sun)