2018 Best use of digital communications winners
In this broader category, we are looking for entries that embrace the full potential of digital media, demonstrating specifically how engagement with investors, shareholders and other key stakeholders through digital, delivers the investment story in a clear and effective way.
Award Categories
Congratulations Valmet, you have developed a great website with good linkages and your 'Value Creation' section explains your investment proposition clearly. Judges particularly liked the excellent use of video and the availability of investor roadshow Q&A. Great job Valmet!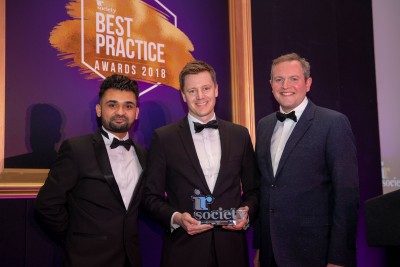 (From left to right) Amit Sanghvi from Q4, Calle Loikkanen from Valmet and Miles Jupp
Highly commended: BASF
The judges would like to highly commend BASF who have invested a great deal of time and effort into their digital offering with lots of links to a great deal of information on the business.
Shortlisted companies:
BASF
Greatcell Soloar
Nornickel
Valmet

Congratulations Echo Energy! As a new business the judges applauded the great deal of effort behind the website, which is rich in content, with lots of detail on the areas of the business they are exploring. The layout of the online report was easily accessible and an interesting read. Well done Echo Energy!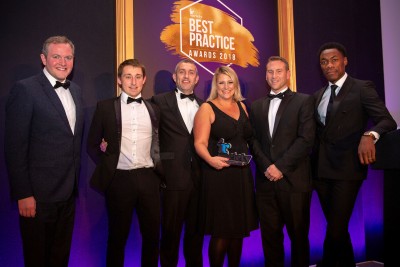 (From left to right) Miles Jupp, James Devon from LSEG, David McCann and Stuart Vernon from Echo Group and the team from Emperor
Shortlist companies:
ASOS
Echo Energy
SMS
Sound Energy

Congratulations Coats Group! You demonstrated best in class digital communications with excellent design and functionality! The judges particularly liked the very interactive 'Year in Review' that described a complex business very well. Well done Coats Group!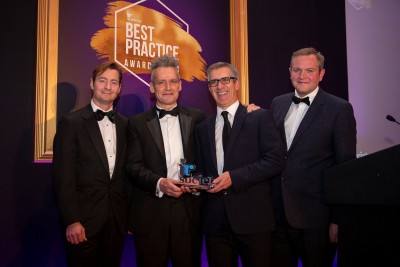 (From left to right) Julian Smith from BRR Media, Cathal Smyth from Superunion, Simon O'Brien from Coats Group, and Miles Jupp
Highly Commended: Dunelm Group
The judges would like to highly commend Dunelm Group for a very well laid out website and good online version of the report and accounts.
Shortlisted companies:
Coats Group
Dunelm Group
Energean Oil & gas
Hays
Kaz Minerals
UDG Healthcare
In this exceptionally strong category, British Land is this year's winner! The judges viewed their Investor Centre as the best of any of the websites they had assessed. The company also demonstrated very good linkage between KPIs, performance and risk and connection to Long Term Incentive Plans online. Most deserving British Land.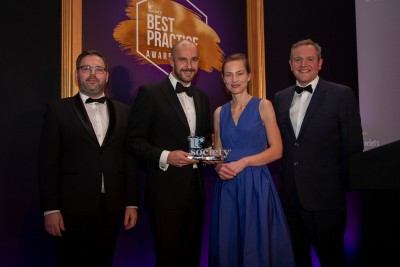 (From left to right) Andrey Kozhevnikov from Zebra, David Walker and Joanna Waddingham from British Land and Miles Jupp
Shortlisted Companies:
Anglo American
British Land
BT Group
Legal & General
RBS
Royal Dutch Shell