Informed 91 – Summer 2016
The main feature of this issue is a 26-page report on the IR Society's 2016 annual conference, Access, Board, Careers: An ABC in IR. The second feature is on best practice, and includes six contributions from IR professionals.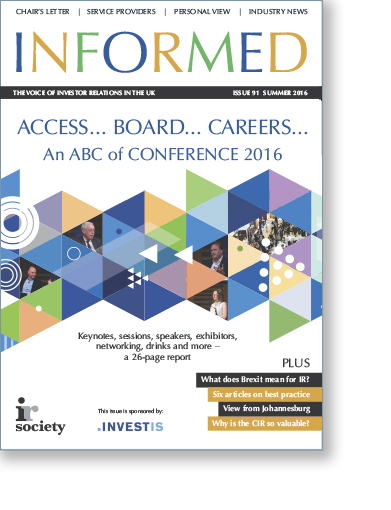 The main feature in this issue of Informed reports on the IR Society's 2016 annual conference, Access, Board, Careers: An ABC of IR, which took place on June 21st. The 26-page feature contains write-ups from each session, including interviews with economist Professor John Kay, and Dixons Carphone CEO Sebastian James. This section also includes photographs of the event.
The second feature of this issue was based on best practice, with articles including:
Seven top tips for IR professionals, Loren Dufton, Capita.
How to apply best practice in investor relations, Abi Genis, Barratt Developments
Foreign companies and competition for capital, Jonathan Passmore, Valor IR Consulting
Inspiration from within: what IR can learn from careers, Simon Gittings, Investis
The CIR – is it an option or a 'must'? , Alexandre Bykov, PR Newswire
An ABCD of IR, Gillian Karran-Cumberlege and Emily Baker, Fidelio
This issue also featured international contributions from Nikki Catrakilis-Wagner, reporting on IR in South Africa, and Karen Keyes reporting on the Canadian CIRI annual conference.
As part of the industry news section, Richard Davies, RD:IR, and new Society chair David Lloyd-Seed share their views on Brexit.
If you have any ideas for inclusion in future issues of Informed, please contact Laura Hayter.
Published 20 July, 2016