Informed 92 – Autumn 2016
The main theme of this issue is a report on careers and professional development – including articles from IROs and service providers. This issue also contains international perspectives from Hong Kong, Japan and South Africa.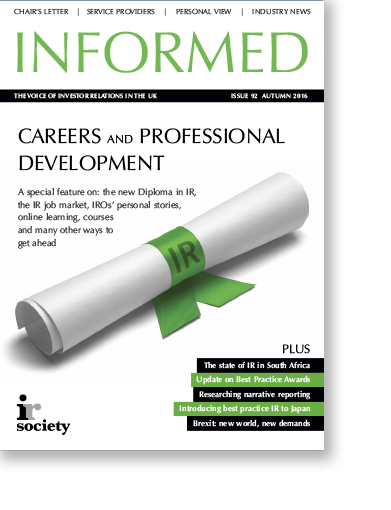 The main theme of this issue is a report on careers and professional development, which looks at the learning opportunities that are available to those in the IR community, as well as tips on how to enhance your career and get ahead. Articles in this section included:
Quietly optimistic about IR jobs, Debbie Nathan, EMR
Meeting the challenges, Salisha Ilyas, Canadian Investor Relations Institute
Develop your skill set, Vincenzo Leporiere, Hays
Moving up the IR curve, Rosie Wilkins, BT Group
The rise of e-learning, Vanessa Harwood-Whitcher, Association of Corporate Treasurers
The Diploma in IR, Ross Hawley, Rolls-Royce
Back to first principles, Sue Scholes, IR Society
Using the knowledge, Alex Money, Smith School of Enterprise and the Environment, University of Oxford and ACE Consensus Limited
How to lunch and learn with Club IR…, Nicole Solomon, IR Society
Also in this issue, Tetsuyuki Yoneyama reports on implementing best practice guidelines in Japan, Eva Chan writes about the Hong Kong IR Association, and Lisa Wannell writes about the impact of Brexit on the South African market.
In the industry news section, Richard Davies discusses the incoming MiFID II regulation, Stuart Ellen reports on the digital future of AGMs, and Martin Walker and Steve Young highlight their research into the role of narratives in corporate financial communication.
If you have any ideas for inclusion in future issues of Informed, please contact Laura Hayter.
Published 27 September, 2016