Informed 93 – Winter 2016/17
This issue covers the 2016 IR Society Best Practice Awards, with pictures from the event and full coverage of the winners. There is also a feature on best practice in 2017, with articles discussing the political and regulatory landscape.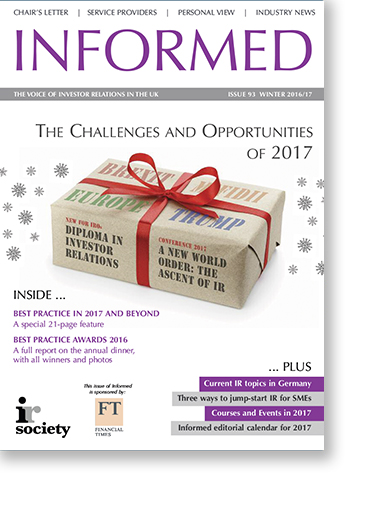 The main feature in the Winter 2016/17 issue of Informed was the 21-page feature, including photos, on the IR Society Best Practice Awards, which was held at The Tower of London in November. Every prize winner and sponsor was featured along with photographs of this fantastic event.
This issue also contains a feature titled 'Best practice in 2017 and beyond' which looks at the current IR landscape, in a changing political world, and what is on the horizon for IROs. Articles in this section included:
How the Society leads the way in best practice, by Sallie Pilot, Black Sun
Best practice IR in the Brexit and Trump era, by Gillian Karran-Cumberlege and Emily Baker, Fidelio Partners
IR and the Trump shock, by Richard Davies, RD:IR
IROs must be proactive, by Claire Lavery, Rivel Research Group
The aftermath of the 2016 voting shocks, by Karen Keyes, Aimia
Illuminating value through best practice reporting, by Jack Craze, Stratton Craig
The best practice journey, by Julie Wilford, Design Portfolio
Are you a digital dinosaur? by Julian Smith, BRR Media
Best practice first principles, by Brian Rafferty, Taylor Rafferty
The strategic role of the IRO, by Ramona Tipnis
Disclosure best practice – the Singapore perspective, by Tan Boon Gin, SGX
Also in this issue, Andrew Griffin discusses IR for SMEs and Kay Bommer looks at the state of IR in Germany. Regular features include Society news, new members, CIR passes, events, professional development courses, service providers and more.
If you have any ideas for inclusion in future issues of Informed, please contact Laura Hayter.
Published 21 December, 2016