Investor Insight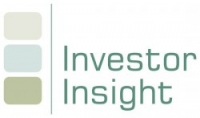 ---
Investor Insight is the UK's leading share register boutique

Our aim is simply to deliver the most accurate and bespoke shareholder analysis services available, identifying all institutional and retail global shareholders as well as uncovering all nominee accounts, regardless of geographical location. Our methodology it is both a time consuming and highly involved process where nothing can compensate for experience. We do not provide generic reports. Everything we do is specifically tailored to our clients' individual needs.

Why is shareholder analysis so important?
▪ We believe shareholder analysis to be fundamental to any company's IR programme.
Senior management, IR professionals and their corporate advisers need to be able to
track shareholder movements on a regular basis particularly around significant events,
be those financial calendar linked or during M&A activity.
▪ Understanding your investor base enables you to:-
• Plan capital markets days, roadshows and meetings more effectively
• Identify the motivation behind key investors' purchases and divestments.
• Undertake targeting exercises to discover potential investors
• Conduct perceptions studies with key investors to uncover investor sentiment
Why us?

Pinpoint accuracy - request a free report and compare us.
Cost efficient - fixed fees and no rolling contracts to tie you in.
Renowned customer service - you will feel like you are our only client (references available from AstraZeneca, Pennon Group, Thomas Cook Group and 3i Group).
Tailored & flexible - direct access to your analyst at all times.

Related Services

• Daily Trade Monitoring
• Contact Management System integration
• AGM/EGM Voting Analysis
• Investor targeting
• Perception studies (buy and sell-side)
• Benchmarking analysis
• IR event planning
For further information please contact Peter Kemp or Paul Raju
t. 01954 718599
e. info@investorinsight.co.uk
w. investorinsight.co.uk
Services: Board advisory, CRM databases, Investor relations, IR for small caps, Opinion research, Share register analysis, Shareholder research