Informed 101 – Winter 2018/19
This issue covers the 2018 IR Society Best Practice Awards, with pictures from the event and full coverage of the winners. There is also a feature on best practice, and four international contributions.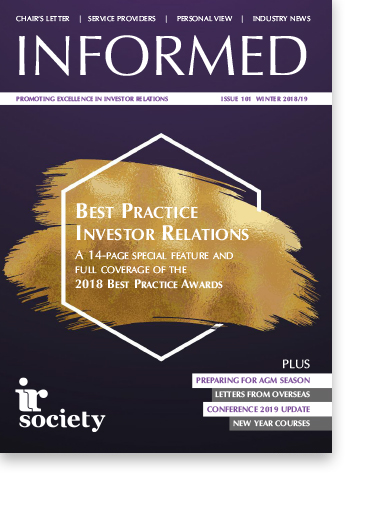 The main feature in the Winter 2018/19 issue of Informed was the 13-page feature, including photos, on the IR Society Best Practice Awards, which was held at The De Vere Grand Connaught Rooms. Every prize winner and sponsor was featured along with photographs of this wonderful event.
This issue also contains a feature titled 'Best practice IR' which looked at the current IR landscape, a year on from MiFID II. Articles in this section included:
The long and short of it, Richard Davies, RD:IR
Optimising your company website for investors, Sonya Ghobrial, Clear Giraffe IR
The future of investor relations 'the silent disruptor', Keilah Cod, Quilter
A best practice business model for annual reports, James Houston, Jones and Palmer
A year on from MiFID II - a view from the ground, Marina Zakharova de Calero, McCarthy & Stone
Shareholder activism - why a proactive approach works best, Sandra Novakov, Citigate Dewe Rogerson
As well as these articles, we publish four letters from overseas, including Daniela Serban from Romania, Judy Tan from Singapore, Tina Hoilund Pedersen from Denmark and Andrew Tarbuck from the Middle East.
Ross Hawley, chair of the IR Society's education committee and deputy chair of the policy committee, offers his thoughts on AMG season, and suggests ways for IROs to prepare.
Regular features include Society news, industry news, new members, CIR passes, events, professional development, service providers and more.
If you have any ideas for inclusion in future issues of Informed, please contact Laura Hayter.
Published 20 December, 2018