Informed 104 – Autumn 2019
The main feature in this issue of Informed was titled 'IR for small caps'. It looked at opportunities and challenges, plus a new growth-focused IR programme.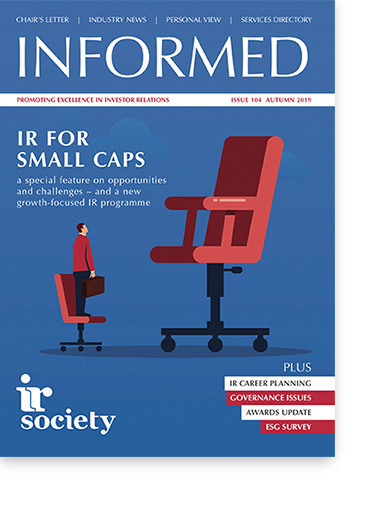 A section on governance included IR Society survey results, an article from RD:IR's Richard Davies, and MSCI's Jasmine Mehta.
There was also a section on IR career planning, which looked at the Society's learning opportunities – including a summary of the CIR and DipIR programme, and also an overview of courses on offer. This included articles from Ross Hawley, Alison Owers, and Jessica Hyett and Tara Mitchell.
The main feature, IR for small caps, contained the following articles:
A new IR programme for smaller companies, Robert Dann, IR Society
IR for small caps – the principles are the same, but the challenges are different, Clara Melia and Lang Messer, Equitory
Liquidity is more of a focus for investors in small caps, Alex Schlich, Yellowstone Advisory
Informed interview: How do small-cap companies approach IR? Diane Faulks, IR consultant and Iain Thomson, Harworth Group
Turning the regulatory burden into opportunity, Jenni Fulton, Emperor
This issue also included an article on artificial intelligence as a means of assessing annual reports, plus a letter from Romania which profiled the stock market and IR activities in the country.
In Society news, Laura Hayter took the reins as CEO, as Gary Davies stepped down. Regular features included industry news, new members, CIR passes, DipIR passes, events, courses, service providers and more.
If you have any ideas for inclusion in future issues of Informed, please contact Jess Hyett.
Published 21 October, 2019