Informed 105 – Winter 2019/20
This issue of Informed included full coverage of the 2019 Best Practice Awards, with winners, judges comments and photos from the night. There was also a feature section titled 'IR notebook 2020', which looked at key topics in the year to come.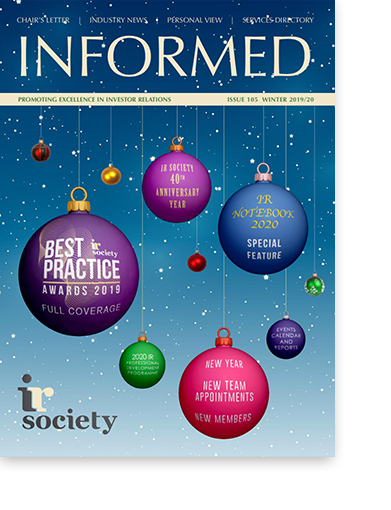 In a busy quarter for the IR Society, this issue said farewell to Society chair David Lloyd-Seed, and welcomed David Walker who took the reins in early December. The team also welcomed a new head of policy and communications, Kate Heseltine, who joined in November. Other Society news included an event report on a successful activism breakfast, plus an IRO member survey on ESG issues. New members and recent CIR/ICIR passes were also included in this issue.
The special feature, 'IR notebook 2020' included the following articles:
IR 2020 – Looking back, looking forward, by Richard Davies, RD:IR
Can you judge an annual report by its cover? by Jarrad Comley, MerchantCantos
How to stand out from the crowd in 2020, by Sandra Novakov, Citigate Dewe Rogerson
How Severstal is putting its corporate purpose into practice, by Andrew Hayes, Hudson Sandler
Pay and performance top AGM themes in 2019, by Lisa Graham, Equiniti
Are companies reporting the climate change information that investors need? by Stuart Lemmon, EcoAct
Putting flesh on the bones of your corporate culture, by Nick Bastin, Montfort
Also in this issue, two new professional development courses were highlighted, and there was an overview of events to come in 2020.
If you have any ideas for inclusion in future issues of Informed, please contact Jess Hyett.
Published 27 December, 2019