Informed 107 – Summer 2020
With the COVID-19 crisis easing somewhat in the UK and Europe, the focus of this issue is on IR professional development. The main feature is 'IR Career Insights', including interviews with – and articles by – a range of IROs and other experts.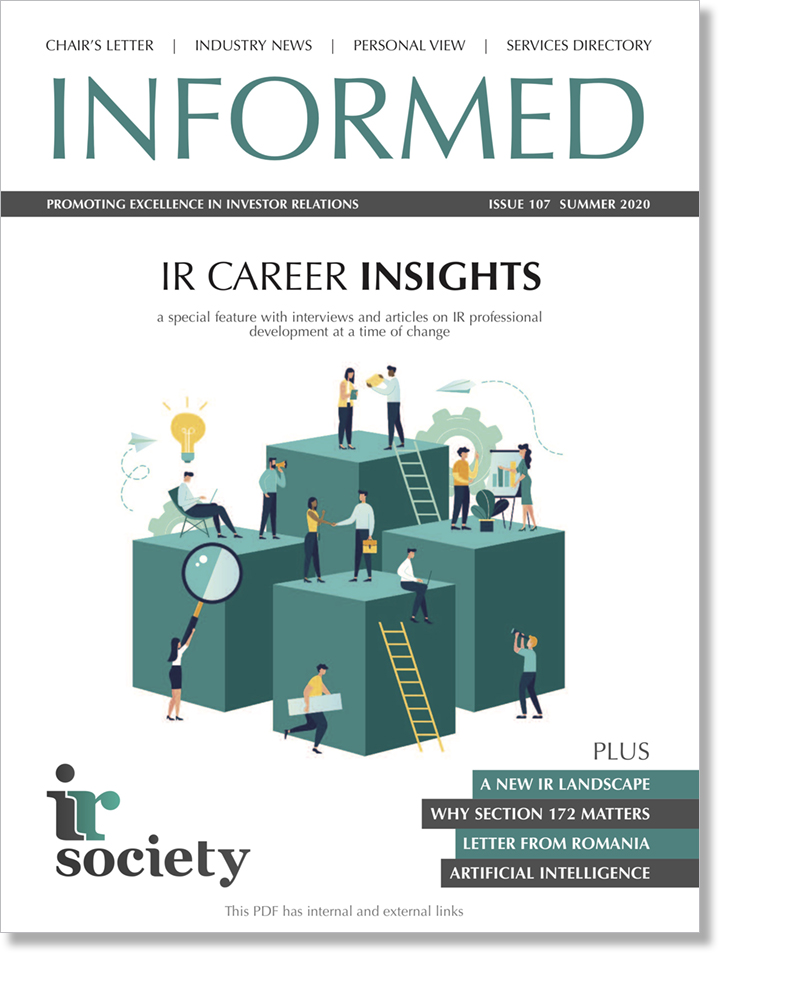 In his introductory letter, the Society's chair David Walker gives an update on the work of the Society during this difficult time. He writes that 'Despite the economic uncertainty we are now facing in 2020 and beyond, we believe we are innovative, agile and capable of adapting rapidly to these new and emerging circumstances'.
In her Personal View column, CEO Laura Hayter sets out the priorities for the Society going forward, including the forthcoming virtual annual conference and the Best Practice Awards at the end of the year. She highlights the online courses which the Society offers and points to the continuing rise of ESG as a topic – and to the revised best practice guidelines which are now available on the website.
IR career insights
This special feature includes a range of topics on IR professional development, with interviews and articles from experienced IROs and others:
Full steam ahead for IR learning
Drawing on a finance background in an IR role
The importance of building diversity in the IR profession
How to succeed in your challenging IRO career
Bringing extensive IR experience to a new role
Enhance your professional skills with the IR Society's DipIR programme
Getting the CEO on board is crucial
Valuing IR talent in turbulent markets
Weathering the storm as an award-winning IR team
Poacher turned gamekeeper – the transition from sell-side analyst to IRO
In addition to the regular contents, including latest industry news, this issue of Informed has other contributions on topical matters:
Corporate reporting: Challenging times – the only certainty is uncertainty (this article was contributed by the FRC)
The new IR landscape (1): The prospects for IR in the era of COVID-19
The new IR landscape (2): I used to think Zoom was my favourite children's lolly...
Why Section 172 reporting matters for your ESG investment case
Artificial intelligence: Telling your equity story using AI – an IRO's pipe dream?
Letter from Romania: Difficult markets are spurring IR innovation
If you have any ideas for inclusion in future issues of Informed, please contact Jess Hyett.
Published 10 July, 2020