Informed 109 – Winter 2020/21
The Winter 2020/21 issue of Informed provides in-depth coverage of the Best Practice Awards, which was held in late November. It also includes a feature titled '2021: IR challenge or opportunity?'.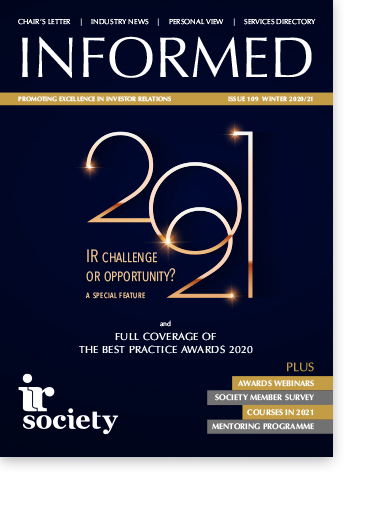 The 12-page Best Practice Awards section includes the following:
Moving from best practice to next practice – Sallie Pilot, chair of the best practice committee
Reporting matters – here's why – Paul Lee, chair of the awards judging panel
Award sponsors
The awards shortlist
The judging panel
Most effective overall communication of company investment proposition (winners)
Best communication of ESG (winners)
Most effective use of digital communications (winners)
Best annual report (winners)
Voted awards (winners), and message from Institutional Investor
Awards in Focus webinar write-ups
Also in this issue, a feature titled '2021: IR challenge or opportunity' looks at the where the industry is heading in the next few months, and considers the challenges of continued COVID-19 disruption, potential Brexit issues, and other regulatory changes. Articles in this section include:
Stakeholders in the spotlight – Marie Claire Tabone, FRC's Financial Reporting Lab
An AGM season to remember – and what's on the horizon for 2021 – David Chase Lopes, D.F. King
To list or not to list, that is the question – Richard Davies, RD:IR
Corporate reporting after a year of chaos, what lies ahead? – Kay Kayachith, Radley Yeldar
Gender inequality at a crossroads as women are hit harder by COVID-19 – Sandra Novakov, Citigate Dewe Rogerson
How value investors think – and how IROs can attract them – Chris Collett, formerly Thomson Reuters and Euromoney, and Mike Cunningham, ACMR Capital and Cash Business School
TCFD is coming: the implications explained: Mei Ashelford, Gather
Has COVID-19 led to the death of the traditional analyst meeting? Julian Smith, BRR Media
Rethinking the investment case for a post-COVID world – Daniel Redman, Design Portfolio
The growing role of IR for private companies – Geoff Callow, Equitory
How MiFID II is impacting consensus management – William Chapman, Vara Research
Other features in this issue include the 2020 IR Society member survey, presented by Charles Hamlyn from QuantiFire, and details of the IR Society's new Mentoring Programme, from Robert Dann, IR Society, and Fiona O'Nolan at Equitory.
Regular items include industry news, events and courses for 2021, service providers, the chair's letter, and CEO's personal view.
If you have any ideas for inclusions in future issues of Informed, please contact Jessica Hyett.
Published 18 December, 2020