Informed 110 – Spring 2021
The main feature of the newly-designed Spring issue of Informed is titled 'Finding a new voice for IR'. It contains a number of articles on all aspects of IR communications, as we emerge from the global pandemic. A second feature is based on ESG in 2021.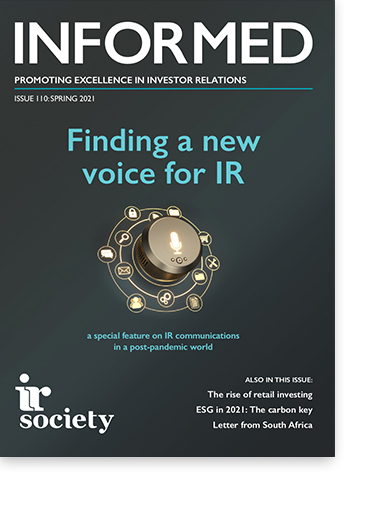 The main feature section includes the following articles:
Virtual company meetings are here to stay – by Sonal R. Patel
IR: Inspiring internal audiences – by Fay Dodds
Publish consensus on your website – investors will thank you for it – by Andrew Ripper
Capital markets days: Telling your revised story – by Richard Carpenter
Evolving stewardship brings a new focus to IR – by Emma Burdett and Li Zhao
Why disclosure is a great improvement tool – by Claire Fraser
The second feature section, titled 'ESG in 2021: The carbon key' includes the following:
The carbon key – by Pamela Styles
The building blocks of global ESG disclosure – by Neil Stewart
A different perspective on ESG and investor relations – by Lindsey Stewart and Sophie Gauthier-Beaudoin
ESG activists knock at the boardroom's door – by Carlos Martin Tornero
Working towards brighter ESG reporting – by Stephen Butler
This issue also includes a letter from South Africa, titled 'Are we nearly there yet?' by Lisa Wannell.
A column from Richard Davies considers the sharp rise of retail investors, which lead to the WallStreetBets/Game Stop saga from earlier this year; and a column from Lorraine Rees and Julian Macedo suggest what the implications of The Hill Review may mean for IROs.
Regular items include industry news, society news, new members, CIR passes, events, courses and service providers.
If you would like to contribute towards a future issue of Informed, please contact Jessica Hyett at jessica.hyett@irsociety.org.uk.
Published 8 April, 2021