Informed 111 – Summer 2021
This issue of Informed covered the IR Society's 2021 Festival of IR and annual conference.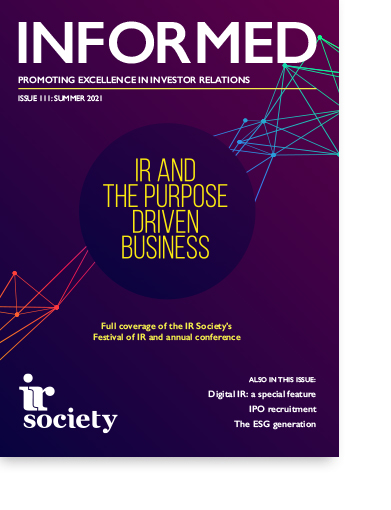 The 23-page conference section contained write-ups from keynote interviews with Bernard Looney, Sir Anthony Habgood and Julie Brown, plus four sponsor sessions and four plenary sessions.
In addition to this, there was a feature section titled Digital Insights – which included the following articles:
The third space of investor engagement, by Thomse Toomse-Smith
Easy wins for IROs and the moving image opportunity, by Stephen Butler
Zooming back to physical meetings, by Michael Hufton
It's time to start using digital for ESG communications, by Daniel Redman
There was also a feature article on IPO recruitment from Debbie Nathan, and an article on the ESG generation from Sam Sutcliffe.
Regular items included industry news, IR Society news, a letter from the CEO, the chair's letter, plus up-coming events and courses, service providers and more.
If you have any ideas for inclusion in future issues of Informed, please contact Laura Hayter.
Published 21 July, 2021