Informed 112 – Autumn 2021
The main feature of the Autumn issue of Informed is titled 'IR for small caps'. It contains a number of articles on all issues relevant to smaller listed companies. A second feature, titled 'Careers in IR' details learning opportunities, and provides an insight into the IR role.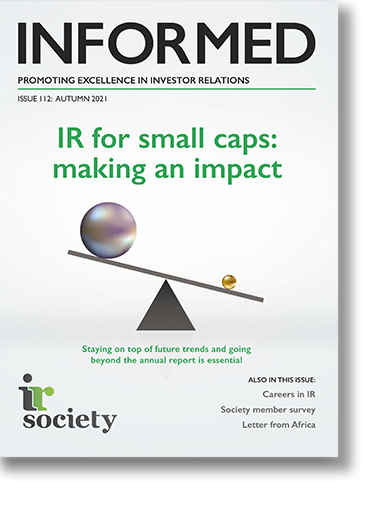 The main feature section includes the following articles:
Creating a binge-worthy company story by Mav Wynn
Has lockdown accelerated the need for a digital IR strategy? by Matthew Young
Bringing prosperity while acting sustainably by Sally Marshak
Identifying, targeting, and engaging with investors by John Nunziati
Double materiality: a necessary frontier for the FTSE 350 by Rachel Madan
How to improve ESG reporting with a small in-house resource by Jennifer Human
The progress and potential of holistic storytelling by Jenni Fulton and Tim Marklew
New thinking is needed to access new pools of capital by Fraser Thorne
The second feature section, titled 'Careers in IR' includes the following:
A new way to develop your IR skillset by Robert Dann, Fiona O'Nolan, Ronke Fadipe, Craig Marks and Charlotte Ayres
A reflection on how the IR industry is changing by Anna Hartropp
Navigating my way through a career in IR by Holly Gillis
Developing your own IR career journey by Kim Anderson
Other articles in this issue include:
A column from Richard Davies on the concept of the 'metaverse' – and why it might be relevant to IR
The IR Society's 2021 Member Survey, introduced and analysed by Robert Dann and Charles Hamlyn
The A4S essential guide to enhancing investor relations, by Martina Tessari
Mind the (risk reporting) gap, by Andrew Hyland
A letter from Africa, providing insights into online IR in the region, by Rob Stangroom.
Regular items include industry news, society news, new members, CIR passes, events, courses and service providers.
If you would like to contribute towards a future issue of Informed, please contact Laura Hayter at laura.hayter@irsociety.org.uk
Published 14 October, 2021