Informed 113 – Winter 2021/22
The Winter 2021/22 issue of Informed provides in-depth coverage of the 2021 Best Practice Awards, which were held in late November. It also includes a feature titled 'Best in class', which profiles some of the award-winning companies.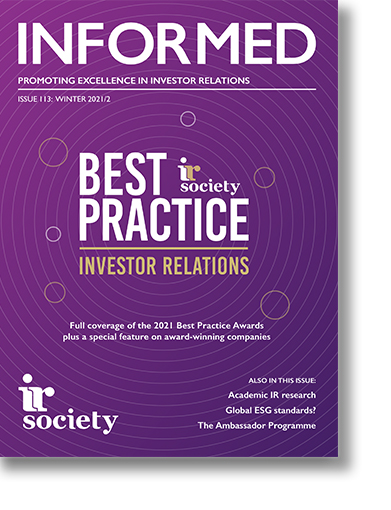 As the business world moves beyond the initial shocks of the pandemic, Sandra Novakov considers 'Effective IR strategies for a post-COVID world'; Dr Kenneth Lee and Dr Mark Aleksanyan discuss academic research into investor relations; and Katya Gorbatiouk explains how communications is playing a more important role than ever before.
Regular items include a letter from the chair, personal view from the IR Society CEO, industry news, 2022 events and courses, and a comprehensive services directory.
The awards and feature section includes the following:
Judging panel, sponsors and an introduction
Developments in best practice, by Sallie Pilot
Full coverage of each award, plus photos from the event
How to connect with retail investors, by Pekka Houhiainen
Building engagement with webinars, by Peregrine Riviere
Thriving through challenging times, by Mikel van Beek
'If you can't measure it, you can't improve it', by Bryony Wilde
Also in this issue, Robert Dann and Rebecca White introduce the IR Society's new Ambassador Programme; Sarah Wickens re-visits the IR Society Membership Survey; and Richard Davies considers a move towards global ESG standards.
If you have any ideas for articles for future issues of Informed, please contact Laura Hayter.
Published 20 December, 2021