Informed 115 – Summer 2022
The Summer 2022 issue of Informed provided full coverage of the IR Society's annual conference, a feature on the 'E' in ESG, and a preview of this year's Best Practice Awards.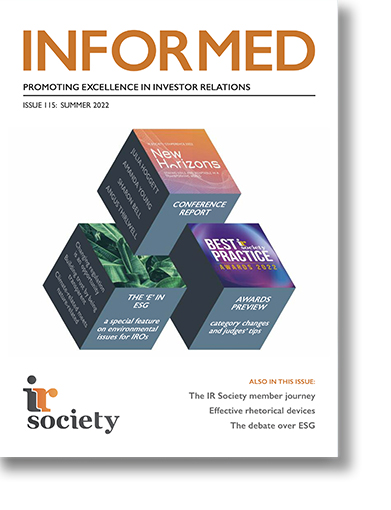 The 22-page conference section summarised every session from the June 21st conference, titled 'New Horizons: Staying agile and adaptable in a transforming world'. Keynotes included Julia Hoggett, Amanda Young, Sharon Bell and Angus Thirlwell. Plenary sessions focused on ESG issues, corporate agility, and future issues for IROs.
With the annual Best Practice Awards just months away, a section of Informed looked at each awards category, and offered tips to IR professionals who are wanting to enter. Also included are details on how to enter, and a 'key dates' section.
This issue also included a feature on the environmental aspects of ESG reporting. Articles included:
Changing regulation is an opportunity, by Jennifer Walmsley;
Building trust by being transparent, by Tjerk Huysinga; and
Climate-related meets nature-related, by Claire Mogford.
Other articles in this issue included 'RIP ESG?' by Richard Davies, and 'REPowerEU', a sponsored article by S&P Global Market Intelligence.
In the professional development section, Matthew David summarised the IR Society's courses this year, and Jon Harris considered how using rhetorical devices can improve IR communications.
Also in this issue, Laura Hayter reflected on the conference, and looked ahead to a busy autumn and winter; Rebecca White introduced the IR Society's member journey, Liz Cole shared detailed summaries of everything that is happening in the IR industry; and Society member, Shalina Jayaram, was asked for her career insights.
If you have any feedback on this issue, or would like to contribute to the next one, please contact Laura Hayter.
Published 2 August, 2022