Informed 97 – Winter 2017/18
This issue covers the 2017 IR Society Best Practice Awards, with pictures from the event and full coverage of the winners. There is also a feature on best practice in 2018, with articles discussing the political and regulatory landscape.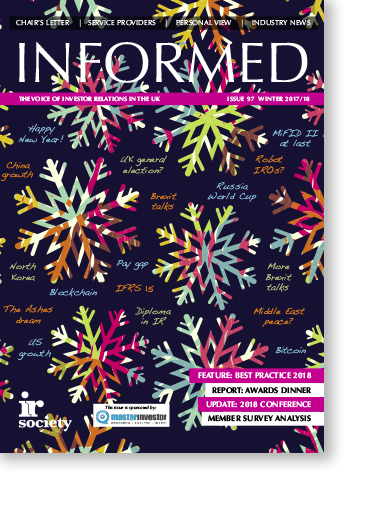 The main feature in the Winter 2017/18 issue of Informed was the 15-page feature, including photos, on the IR Society Best Practice Awards, which was held at The Tower of London in November. Every prize winner and sponsor was featured along with photographs of this wonderful event.
This issue also contains a feature titled 'Best practice 2018' which looks at the current IR landscape, in a changing regulatory world, and what is on the horizon for IROs. Articles in this section included:
The growth of IR continues apace, Sallie Pilot, Black Sun
Top tips to ensure you are ready for MiFID II, David Lloyd-Seed, O2 (Telefónica UK) and IR Society chair
Treat MiFID II as an opportunity for deeper engagement, Craig Marks, AstraZeneca
Carpe diem... broaden your investor dialogue, Alison Owers, Orient Captial, and Aemilia Varfis, D.F. King
How to prepare for your IRO interview, Debbie Nathan, Carter Murray
Challenges and changes – nothing new for IROs, Charles King, Worldpay
The Equity Act – mind the (gender reporting pay) gap! Hannah Griffiths, MerchantCantos
Implementing strategic IR at Russia's Severstal, John Gollifer, IR Society
An IRO looks ahead to 2018 and prepares for regulatory changes, Helen Parris, G4S
Choosing the best way to build sustainable value, Stephen Butler, Luminous
Building a US investor base after MiFID II, Brian Rafferty, Taylor Rafferty
Also in this issue, Sean Ellerker of QuantiFire presents the annual member survey, Richard Davies of RD:IR shares his thoughts about IR in 2018 and Swen Lorenz of Master Investor outlines the importance of retail investors.
Regular features include Society news, industry news, new members, CIR passes, events, professional development, service providers and more.
If you have any ideas for inclusion in future issues of Informed, please contact Laura Hayter.
Published 19 December, 2017