Informed 98 – Spring 2018
The Spring 2018 issue of Informed contains a special feature titled 'Operating in a MiFID II environment'. We asked contributors to explain the practical implications of the new regulatory changes.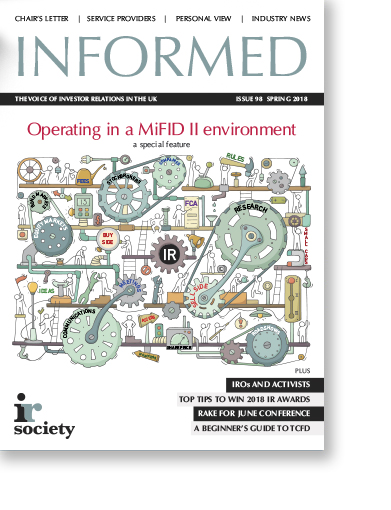 The feature section included the following articles and surveys:
• How are MiFID II regulations affecting IR and what's still to come? Sandra Novakov
• Dwindling visibility for small and mid caps, Steph Osborn
• Buy-side expectations for corporate access under MiFID II, Charles Hamlyn
• IROs on the front line as the changes take effect, Vincenzo Leporiere
• US view: the brave new world of MiFID II, Gary LaBranche
• What's the future for capital-raising in global equity markets? John Dawson
• View from the market – investors' attention turns to stewardship, Cynthia Alers
• How MiFID II can trigger a wave of innovation, Rafael S. Lajeunesse
• The rise of IHT funds – what companies can do, Fraser Thorne
• MiFID II and consensus management, An IR Society survey
• How MiFID II is already affecting fund managers, Alex Schlich
• Free your capital markets day to connect with capital! Chris Gurney and Claire Lavery
Also in this issue, John Gollifer offers five top tips to help you win the 2018 best practice awards; Justine Dixon introduces the latest reporting acronym, TCDF; Richard Davies assesses the state of the IR industry; and Mav Wynn and Charlie Harrison write about activist investors, and why they shouldn't be feared.
Regular features include Society news, a conference update, new members, CIR passes, events, professional development, service providers and more.
If you have any ideas for inclusion in future issues of Informed please contact Laura Hayter.
Published 27 March, 2018