Broome Yasar Partnership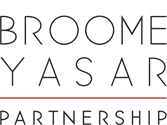 ---
Broome Yasar Partnership is the leading global executive recruitment consultancy dedicated to Investor Relations, Corporate Communications, Public Relations and Marketing Communications. Our dedicated Partners have extensive experience of both investor relations and executive recruitment and have been involved in helping to place more than 300 senior investor relations professionals globally.
Headquartered in Central London, we offer a global service that draws on our extensive international research capabilities and our hand-picked affiliates located in the world's premier financial centres. We pride ourselves on our cultural sensitivity and our ability to work across borders with ease.
Partnership isn't just the name on our door – it's the promise to work as a dedicated and long term partner with you, either as a client looking for the right senior candidate or as a candidate looking for unrivalled advice, career nurturing and ultimately your next role.
Contact ir@broomeyasar.com
www.broomeyasar.com
Contact: +44 (0)203 955 5160
Bridge House, 181 Queen Victoria Street, London, EC4V 4EG.
Services: Board advisory, Executive search
Oskar Yasar
Managing Partner
+44 (0)203 955 5160
ir@broomeyasar.com
Bridge House, 181 Queen Victoria Street, London, EC4V 4EG