Davy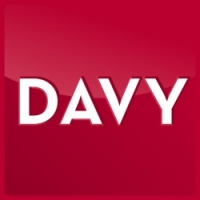 ---
Founded in 1926, Davy is a leading independent Corporate Adviser & Institutional stockbroker which employs over 700 people in 5 offices across the UK and Ireland.
As one of the oldest stockbrokers and advisers in the UK and Ireland, we have built our reputation on having trusted, long-term relationships with our clients where we provide a full range of services including advice and transaction execution in relation to M&A, IPOs, secondary equity issuance and debt capital markets. Our Corporate Broking clients include 36 companies listed in the UK and Ireland, with 6 FTSE 100 / Stoxx 50 and the remainder spread across a range of market caps from AIM listed companies to FTSE 250.
Our insightful Research is driven by award winning analysts (average tenure at Davy of 8+ years) who provide thoughtful ideas across a range of industries with over 140 stocks under-coverage. In addition, our Institutional Equities platform is aligned with both Research and our Advisory platform to ensure all pockets of investor demand across the UK, Europe and the US are found at IPO and through the life cycle of our clients.
Recent highlights include the following:
ECM: Raised over €5bn in equity since January 2017 in the UK and Ireland including IPOs, M&A equity financing, as well as secondary equity issuance
M&A and advisory: Since 2017, acted as Financial Adviser and Broker on over €7bn of deals relating to defence, M&A and disposals
Conferences: Annually host over 10+ major conferences in the UK, Europe and North America
DCM: Acted as primary dealer on over €21bn in sovereign debt over the past three years and almost €2bn in corporate debt
Services: Corporate broking